At Importaco we take great care at every stage of the product production process. This work starts in the field with our Agricultural Integration Model, which pursues two objectives: promoting sustainable development and benefitting all the links in the supply chain. We therefore work directly with the farmers to get to know their needs and ideas in order to obtain products of the highest quality.
Importaco's innovation area carries out constant consumer studies to adapt our supply to our customers' demands and, consequently, to design, produce and develop new products that satisfy their nutritional needs. This task includes a previous step which is extremely important: selecting the best raw material. After this task, the nuts are shelled, sorted and graded in the most optimal way possible thanks to the technical monitoring that is carried out throughout the process.
All this is part of the Importaco Terra and Agricultural Integration projects. Importaco Terra began in 2015, and has 550 hectares of land and is focused on the cultivation of almonds in Spain and Portugal. Our aim is to specialise in the cultivation of almonds as much as possible and to satisfy our own supply needs. We are committed to a sustainable production system that optimises the use of water for irrigation and employs agricultural techniques aimed at reducing the use of fertilisers and phytosanitary products, such as Integrated Pest Management and the use of plant covers. Thanks to this project, our last harvest exceeded 200 tonnes of in-shell almonds and we are currently investing in new land in order to cultivate new varieties of almonds that will enable us to continue to expand our product range.
Meanwhile, we are developing the Agricultural Integration project in various areas of Spain with the aim of implementing good agricultural practices that will enable us to obtain a more sustainable final product that meets our requirements. Importaco engineers and quality experts work directly with farmers to carry out comprehensive monitoring of our 7000 hectares of cultivated land. Data such as irrigation, pests and diseases and soil management are analysed, a task that has a direct impact on the quality of the 9300 tonnes of nuts we produce on average every year.
This direct relationship with the producers allows us to get first-hand knowledge of the characteristics of each plantation, study all the crop-related factors, manage the use of permitted pesticides, analyse the quality of each tree, soil fertilisation, pruning times and irrigation volume, and raise farmers' awareness of the importance of developing good agricultural practices.
Our Agricultural Integration Model contemplates and values areas of biodiversity and the protection of wildlife habitats at all times. We also reduce the risk of bitter almonds, by respecting their ripening and harvesting times in order to produce a nut that meets the highest standards of traceability. Thanks to this model, we guarantee that the products are dried uniformly and subjected to regular humidity controls and analyses, including the removal of foreign matter from fields, in order to guarantee the highest quality product.
Storage is also key throughout the process. Importaco has warehouses located very close to the farmers: in Ainzón (Zaragoza), which can store up to 10,000 tonnes; in Albocàsser and Vall d'Alba (Castellón), with a capacity for 3,000 tonnes, and in Villamalea (Albacete) where there is space for 1,500 tonnes of nuts and dried fruit. Each product variety is stored in a different place to avoid them getting mixed up and all of them have constant temperature, humidity and traceability controls. The in- shell almonds arrive at our storage facilities once they are perfectly dry after harvesting. Products leave the warehouse according to market demand, so that they are kept in perfect conditions.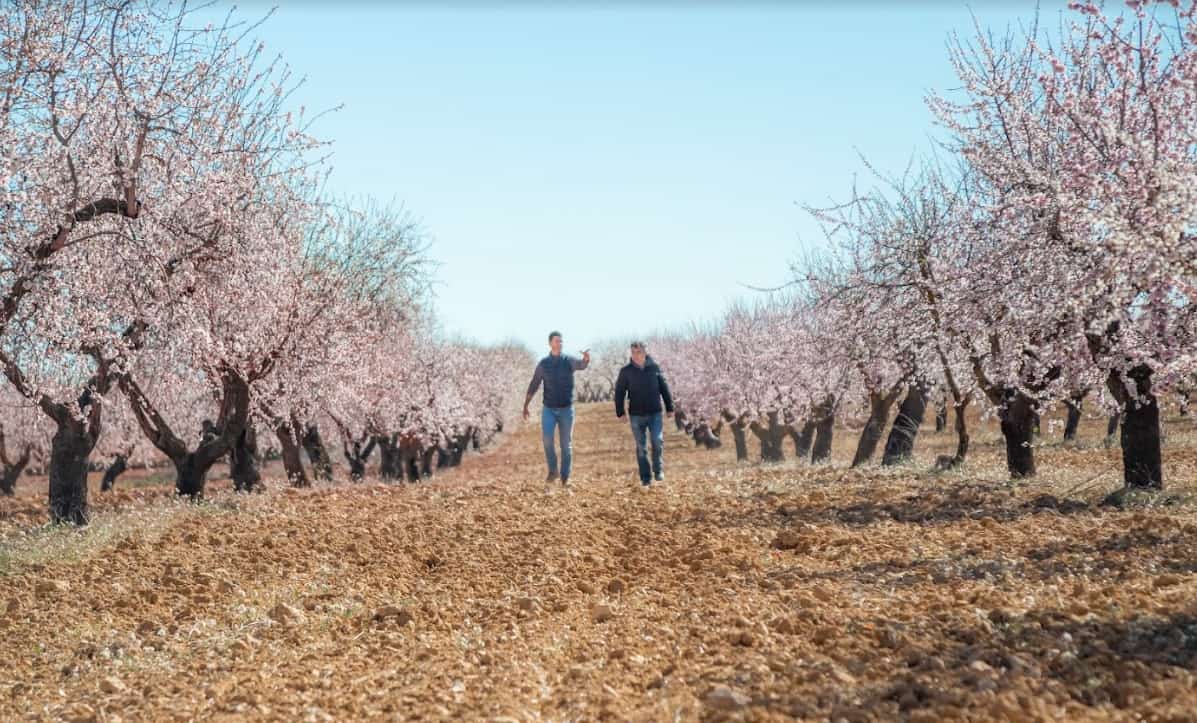 This is how our eco-efficient factory works
Eco-efficient operations characterise our Agricultural Integration Model. Our factory is located in Vall d'Alba (Castellón) and has twelve production lines which have already provided the market with 15 million kilos of almonds. We have all the technologies for processing almonds: blanching, chopping, flour, roasting and paste. The processes we carry out are adapted to consumer demand in accordance with the "Product Profile – Quality Objective" which is based on several aspects:
Quality 4.0: Applying Six Sigma methodology and QbD, our processes are managed by statistical control.
Food safety: Monitoring of emerging risks such as alternariotoxins or ochratoxins.
Monitoring of cyanide in the internal lab in the factory: Control of cyanogenic compounds that produce a bitter taste.
Control and monitoring of critical process parameters: Five validations per batch.
Pasteurization process.
Our factory, founded in 2018, runs on more than 6400 MWh of renewable energy per year, which is 70% of the total, and in 2019 it reduced its CO2 emissions by 700 tonnes. We have also implemented a circular economy strategy that allows us to recycle 100% of our waste, make sustainable use of water and use FSC-certified packaging. We are ISO 14001 certified and SMETA 4P audited.
Are you a farmer who would like to learn more about our Agricultural Integration Model and would you be interested in joining us? Contact us now and our team of professionals will explain every aspect of the way we work.